UPDATE: ASUP Mubi Begins Indefinite Strike On Monday
Select Language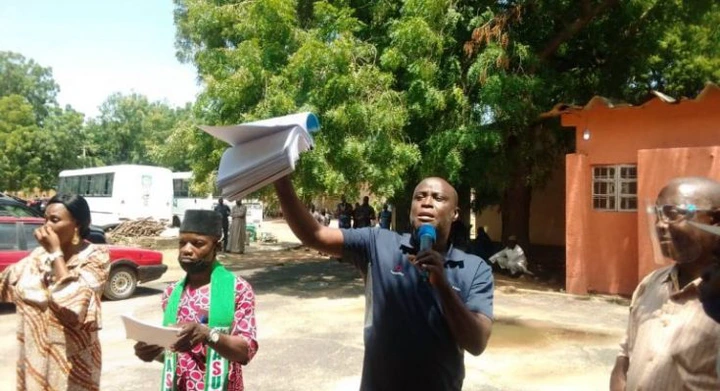 The Academic Staff Union of Polytechnics (ASUP), Federal Polytechnic Mubi has concluded arrangement to embark on total and indefinite strike beginning from Monday October 19, 2020.
In a press release tagged "RESOLUTION OF CONGRESS TO EMBARK ON AN INDEFINITE STRIKE ACTION" jointly signed by the union's Chairman, Comrade Hussaini James and General Secretary, Kadala Solomon Bandi, the union said, the decision to go on the strike was unanimously arrived by the congress during an emergency meeting held on 15th October 2020.
The Union asserted that the action is consequent on the management's failure to respect the earlier agreements reached between the union and the governing council of the institution.
According to the release, ASUP Mubi chapter is being forced to take what it described as painful but necessary action because of the insincerity and insensitivity of the management to the welfare and plight of it's members.
The Union acknowledged the receipt of two official letters from the management in September 2019 with assurance to solve the myriads of issues raised by the union between September to December of the same year.
" Among the issues the union agreed with the council and the management are; non implementation of 2017-2019 promotion arrears, the victimization of union Executives and members through unlawful termination of appointments as well as denial of promotions.
" Others include; tactical reduction of check off dues by the bursar despite the council chairman's and rectors directive that all members who did not withdraw their membership be restored immediately since April 2019.
" There is also non-inclusion of union's representative in all Polytechnic standing committees except for farmland allocation committee, early consideration, approval and release of promotion to staff members to avoid backlog of arrears as well as other demands communicated to the management in the union's letter dated 18th August 2020," the statement said.
The action according to the release is as a result of the resolution of the congresses of 22nd August, 13th September and 18th September all in 2019 which the management did not attend to.
The ASUP said, it has no any alternative than to shut down all academic activities on Monday 19th October 2020 following the deliberate breach of agreements reached by the management.
TGnews is a tripod of (The General) News,articles, Journals, opinion and adverts to millions of people accessing the internet. Serving the common interest not personal or sectarian or Religion interest that are in conflict with the national goals and aspirations of building a united ,peaceful and progressive Nigeria and the World at Large.