Goodluck Jonathan To Chair Igbo Business Hall Of Fame Awards In Enugu
Select Language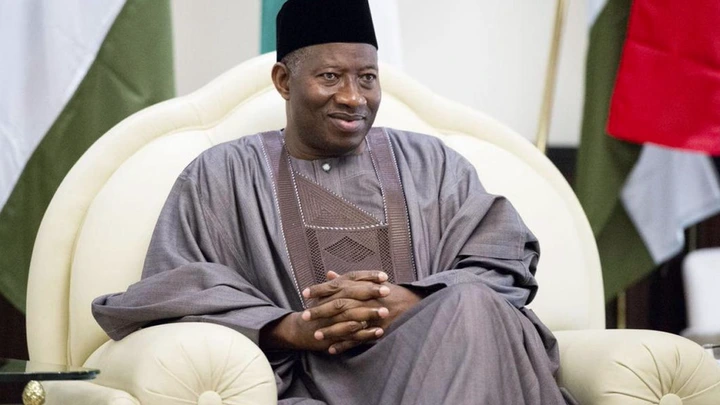 • 10 Tycoons, Including Dozie, Eze, Onyema Make List
In what comes as his first official visit to the Southeast geopolitical after relinquishing power on May 29, 2015, Nigeria's former President, Dr. Goodluck Ebele Jonathan, is to chair the maiden edition of Igbo Business Hall of Fame Awards gala night in Enugu.
At the event, which holds at the Nike Lake Resort on December 5, 2020, a total of 10 entrepreneurs are expected to be inducted in the presence of 200 high profile guests, including diplomats, top government officials, religious and political leaders among others.
The organisers of the award, Champions Court, in a statement by the Executive Director, Nik Ogbulie, said the reason organisers reward philanthropy and grooming of entrepreneurs is that it takes a village to raise an entrepreneur.
"The lone heroic entrepreneur who launches a business with courage and heroism is a myth. Every successful entrepreneur was helped along the way by countless influencers and supporters such as mentors, advisers, creditors, suppliers, partners, and customers. Every business exists in the context and fabric of the society," the statement added.
According to Champions Court President, Ifeanyi Igwebike Mbanefo, the entrepreneurs already shortlisted for the maiden edition of the annual Igbo Business Hall of Fame Awards, include Dr. Pascal Gabriel Dozie, Chief Allen Ifechukwu Onyema, Prince Arthur Eze, Chief Samuel Maduka Onyishi, Dr. Stella Chinyelu Okoli, Chief Patrick Ifeanyi Ubah, Dr. Cosmas Maduka, Dr. Leo Stan Eke, Chief Innocent Ifediaso Chukwuma and Chief Cletus Ibeto.
Perhaps, in a bid to underscore the ethical uprightness of the awardees, the organisers stated unambiguously, "Anyone whose tax records are not up to date will be dropped from the list." It is about the first time such a proviso would be handed out to prospective award recipients in the history of this country.
Still keeping to the business-minded tone, Champions Court declared that attendance to the event is strictly by invitation, explaining that the induction of the 2020 class of business icons would be followed with the unveiling of photographs and intimate personal items of the awardees in public galleries and museums in Southeast region.
"Eventually, the life-like status of these business icons and their intimate personal items will find a permanent home when the Igbo Business Hall of Fame's permanent site is completed," the organisers added, explaining that they emerged from a longlist of 70 formidable entrepreneurs screened by a panel of economists, business analysts, researchers, and journalists.
The need to accord special recognition to captains of industry and innovative entrepreneurs has been a subject of constant refrain in Igboland, especially given the part the region plays in the socio-economic development of Nigeria and Southeast zone in particular.
Mbanefo, President of Champions Court, the organisers of the award, noted that the December 5 award shows that "it is time to bring these leaders and their accomplishments to public attention."
He added: "A hall of fame is where history lives through physical and intimate items – old letters, diaries, scrapbooks, medals, trophies, trademark caps, walking sticks, autographed pictures, etc. – and the stories they contain seems to us a more effective way of honouring our business champions.
"It is perhaps a testimony to the quality and calibre of entrepreneurs from Southeast Nigeria and the golden moment's entrepreneurship, especially the famous Igbo apprenticeship scheme, is currently enjoying that the cull from 70 entrepreneurs to 10 felt very painful, because of the eminence of the men and women on the long list. However, anyone able to get past his indignation and partisanship will acknowledge that this shortlist is worth celebrating."
On the didactic impact of the hall fame for younger generation, the organisers explained that a roll of honour of successful Igbo Business Leaders along with their trade mark personal items will enrich the artistic, historical, scientific, religious, and social artifacts in the museum and create an invaluable and irreplaceable legacy that will be preserved for future generations.
"The presence of Business Leaders in Hall of Fame sections embedded in public museums and galleries will enrich the Igbo family heirlooms and ensure that they are available for future generations to enjoy.
"Honouring successful Igbo business leaders by displaying their names and personal items is a way of tethering the present to the past; of making history real through stories we save and pass along.
"The Hall of Fame for Business Leaders will provide a different perspective for young people underserved by government policies. It will make them realise that it is possible to go past the hurdles and barricades hemming them in and holding them down. It will allow them to see their world not as it is, but as it could be.
"It will help them learn from people who rejected the status quo and re-imagined a better future by summoning the will and doing the work necessary to bring that future into being. This project is a call to examine how we channel our drive, ingenuity, even our pain, into something more meaningful than individual success.
"The case for dedicating sections of museums in the heartland of South East to Igbo artifacts and Igbo world view is straightforward enough. But the case for setting up a Hall of Fame for Igbo Business Leaders is nevertheless more persuasive – so much so that we are surprised that it has not come into existence earlier," he added.
The President of Champions Court recalled that it is business leaders that have grown the Southeast Region's economy; remarking that the economy have thrown millions of youths a lifeline out of poverty; and created jobs where and when the government could not.
His words: "Business has given our youths a voice, dignity, opportunities and recognition. The Hall of Fame for Business Leaders will provide a different perspective for young people underserved by government policies. It will make them realise that it is possible to go past the hurdles and barricades hemming them in and holding them down. It will allow them to see their world not as it is, but as it could be.
"We are celebrating men and women who have refused to limit themselves to narrow range of entrepreneurial problems. Their versatility and skill in solving societal problems approach the level of poetry.  The lifetime achievement prize is awarded yearly to entrepreneurial icons, who have left enduring legacies of success in Southeast and other parts of Nigeria and beyond.
"The aim is to recognise and celebrate business champions who have demonstrated leadership, business acumen and success, entrepreneurial spirit, integrity and commitment to the society."
On whether there are plans to expand the scope of the annual awards, Mbanefo said the "award was created solely for Igbo entrepreneurs, because despite the region's colourful political history and numerous outstanding achievements, in literature, Arts, music, sports, science and technology, the Igbo is defined mainly by business, industry and resilience.
"Because we are determined that the best candidates, best ideas, regardless of where they come from, should have a chance to be heard and to change the world, we made merit the criterion for award of this prize.  Winners shall be encouraged to take thought leadership positions and bring the best new ideas directly to public attention."
He outlined that an award committee made up of economic editors from select national newspapers will estimate every candidate's total lifetime giving, from the testimonials from beneficiaries, press reports and also determine the percentage of wealth a candidate has given away to charity.
"But most important, a candidate must have invested a minimum of USD $10million in his community and other charitable causes to be considered for this award.
"Ranking will be based on the size of candidate's wealth and business empire, location and impact of his business in the South East region of Nigeria, his generosity, and self-made prowess," he stressed.
Clarifying various considerations that went into making this year's shortlist, the organisers disclosed that this year's shortlist is a mixed bag of silver-spooners and bootstrappers, noting that Dr. Comas Maduka, Dr. Innocent Chukwuma, Dr. Cletus Ibeto, and Dr. Patrick Ifeanyi Ubah, did not have formal university education, when they ventured into the world of business.
"But Prince Arthur Eze, Dr. Stella Okoli, Dr. Paschal Dozie, Dr. Samuel Onyishi, and Dr. Allen Onyema, were all university graduates before they became entrepreneurs.
"Among the silver-spooners are Arthur Eze, scion of the Dunukofia Royal Dynasty, who came from a wealthy family; Stella Okoli's parents trained her in University of Bradford and University of London for her graduate and post graduate degrees; and Pascal Dozie, who founded Diamond Bank and owns substantial shares in MTN, Nigeria; was educated at London School of Economics.
"We recognise that we are not all born of the same pedigree. We acknowledge that some individuals have travelled further in their life's journey than others. There are scions, who inherited family wealth. There are those who came from upper and middle classes.
"There are people who grew up poor and overcame significant obstacles in their climb to the top. There are people who did not get any education. And there are those who got little education and were self-taught.
"It therefore goes without saying that in ranking, we shall discriminate between silver spooners and bootstrappers. Someone who inherited significant fortune, who had a head start in life will, in some respects, score a little less than a bootstrapper who battled wrenching personal and family obstacles and made it to the top through his own efforts.
"We shall look at upbringing, paying special attention to their parents' socio-economic status. Orphans, victims of child labour and menial jobs, those who faced abuse, served prison terms, discrimination, sexual abuse, survived war or were known targets of government intimidation or lawlessness will get extra points. Female entrepreneurs, because of the daunting obstacles they face, will similarly get extra points."
In all, Mbanefo said, "The highest consideration will go to candidates who forged their own path using entrepreneurial capitalism as a means to attain a vast fortune because they exhibited the Igbo Can Do spirit.
"Entrepreneurship is celebrated in Igboland, because it provides an important route to success for many of the region's young people. It is their way up and out. It has thrown millions of youths a lifeline out of poverty; and created jobs where and when the government could not. It has given Igbo youths a voice, dignity, opportunities and recognition."