FLAKES: Flight Diverted As Troubled Lady Strips Pants Down
Select Language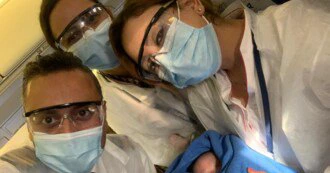 Passenger became disruptive and got into an altercation
A flight in the US was forced to divert after a woman on board became "disruptive", reportedly stripping down to her underwear and hurling obscenities at other passengers.
The incident occurred on a Commutair flight from Jacksonville, Florida, to Houston, Texas, on 5 November, which had to make an unplanned landing at Mobile in Alabama.
Sierra Nicole McClinton, 25, got into an altercation with a passenger, reports local news station WALA, before being apprehended by a flight attendant and another traveller.
Ms McClinton was allegedly intoxicated and shouting at others onboard.
At some point she reportedly stripped down to her underwear, and was escorted off the plane wearing only her pants and a T-shirt, before being met at the gate by police.
"CommutAir flight 4332, operating as United Express from Jacksonville to Houston, diverted to Mobile when a passenger became disruptive," a Commutair spokesperson confirmed in a statement.
"The aircraft landed safely in Mobile where law enforcement officials met the aircraft at the gate.
"The flight continued on to Houston shortly after."
Ms McClinton faces charges of disorderly conduct and public intoxication.
The Independent has contacted Commutair for further comment.
It's not the first time a woman's outfit has raised eyebrows on a flight.
Earlier this month, a woman was left feeling "humiliated" on a Southwest Airlines flight after she claims she was asked to cover up her low-cut top or face being removed from the plane.
Eve J Marie, 26, who was travelling with her seven-year-old son, alleges that she was forced to borrow a flight attendant's jumper and tie it around her for the entirety of the service from Dallas to Tulsa.
"It's really disappointing when you're discriminated against because of your outfit," she said of the incident.