Update: ASUU Strike Call Off In Sight As FG Bows to Pressure
Select Language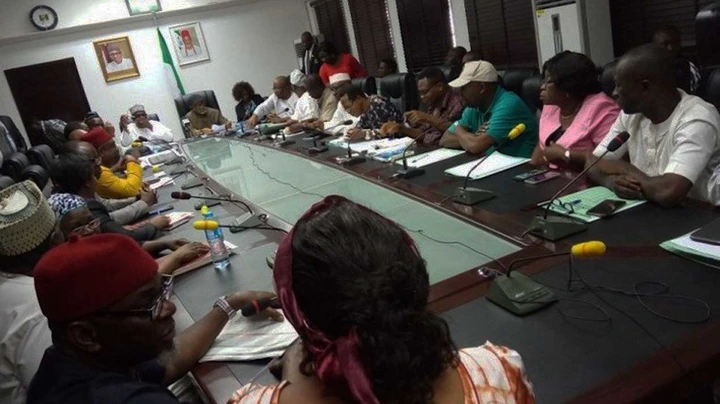 • Govt. Offers Union N65b, Set To Resolve Differences Over IPPIS
• Negotiation Continues Next Friday
• Students Suffer Trauma, Depression
• May Lose Academic Year
• Stakeholders, Parent Seek End To Industrial Action
There are indications that both the Federal Government and Academic Staff Union of Universities (ASUU) are determined to ensure undergraduates of public universities do not lose one academic session due to inability to resolve issues that led to the current nine-month strikes by lecturers.
The strike is already having negative effects on students, parents and even the lecturers themselves. And if not addressed soonest, the action is capable of putting the future of undergraduates of public universities in danger and possibly abeyance.
In a bid to resolve the issues as soon as possible, the Federal Government yesterday offered N65billion to settle the payment of earned allowances and revitalisation of the federal ivory towers.
Though these steps might still not be strong enough to ensure the reopening of the universities, they represent a somewhat way forward, just as the two parties agreed to meet again next Friday to continue the dialogue on the premise that the one week should be used to widen further consultations by both government and ASUU.
On the contentious Integrated Personnel Payroll and Information System (IPPIS), ASUU informed the meeting that it had carried out a demonstration of the University Transparency and Accountability Solution (UTAS) to all of stakeholders and end users on Thursday, November 5, at the National Universities Commission (NUC), where some stakeholders raised questions that had been addressed.
The meeting agreed that going forward, all stakeholders must be carried along in this process to ensure transparency. The Federal Government also agreed to pay ASUU members' salary arrears from February to June this year using old salary payment platform, the Government Integrated Financial Management Information System (GIFMIS).
On withheld salaries and non-remittance of check off dues, both parties agreed that the Federal Ministry of Education and Federal Ministry of Labour and Employment should reconsider the "No Work, No Pay" policy, with a view to getting approval for the withheld salaries to be paid.
"It was also agreed that the mode of payment applied for the payment of those that had not been captured in the IPPIS platform between the months of February and June this year be adopted for the purpose of payment during this transition period.
"On the demand by ASUU for the payment of check off dues, the Accountant General of the Federation requested that ASUU and other unions should provide his office with the necessary information and dedicated account details in writing to facilitate the deductions and remittance of the check off dues," according to a communiqué issued at the end of the meeting.
Already, frustration is beginning to set in for most of the students, especially as their counterparts in private universities have since resumed, with some of them ready to protest their continuous stay at home. Parents on their part fear that university education is going the way of primary and secondary education in most states, where private institutions have become the order of the day.
Famous Otuonye, President of the Students Union of Michael Okpara University of Agriculture, Umudike, Abia State, said Nigerian students are unhappy with the situation, adding: "The strike action has altered our academic calendar, thereby taking us back. Ordinarily, the 2019/2020 academic session is supposed to have ended, but the lingering strike has disrupted it. Students have lost a full academic session.
"The final year students are supposed to have graduated, while the previously graduated students are supposed to have gone for youth service, but the future plans of these students have been terminated as a result of this.
"The students are extremely worried and so anxious to resume, more so since the private academic institutions have resumed. It is so appalling that our mates in private schools are now ahead of us, in other words, they are progressing. We are not happy about that," he lamented.
While calling on the Federal Government to see to the demands of ASUU, and the lecturers to consider the students, he said: "If the strike continues, the students would demonstrate their anger, no matter whose ox is gored."
To Sunny Nwakasun, whose children are undergraduates, the Federal Government/ASUU problem is not a healthy development for students and their parents/guardians, as their prolonged stay at home affects the psyche of both the students and their sponsors.
"The students, after a long time, could stop reading and engage in some untoward acts or endeavours, including cyber crime and overindulgence watching videos, thereby limiting their retention of what they had learnt.
"Some of the children, because of the face off, easily got involved in the recent protests that reportedly led to loss of lives, even as some, due to idleness, were raped, kidnapped or involved in robberies, cult activities, etc.
"So, both parties should come to a point of agreement for students to return to schools and become busy with academic activities once again."
A frustrated 200-level undergraduate of Lagos State University (LASU), Ojo, Innocent Chukwuebuka, stated: "The government and ASUU have practically wasted a whole year with their endless disagreement. I feel set back; I cannot exactly put it into words, but it's a terrible feeling to find yourself at home for so long when you should be in school studying towards a bright future."
"I feel idle as though I have exhausted everything possible to keep busy. The EndSARS protest was a good distraction, as my friends and I dressed up every morning to join the eventful, entertaining and fun-filled protest at airport road in Lagos.
"Unfortunately, the protest has ended and I am back to feeling disconnected from everything and everyone."Another undergraduate of the University of Lagos, Tinuke (surname withheld), said: "I am four-month pregnant and that happened because I got idle and distracted since the ASUU strike. I was always home alone doing nothing.
"My parents go out early in the morning and return in the evening. So, I found myself stuck in the house with boredom and in the course of trying to get busy, I went out a lot to eventful places; I met the guy who got me pregnant on one of my outings.
"Unfortunately, he is also an undergraduate of a state university in Nigeria, living with his parents too. So, while I cannot entirely blame anyone, but myself for this irresponsibility, which has led to unwanted pregnancy, I am positive that if school were in session, I wouldn't have been in this dilemma."
She continued: "I'm no longer sure what the future holds for me. I feel terribly disappointed, first in myself and in the educational system of this country. Though I know I can still resume school despite my pregnancy when the long strike is eventually called off, since it is a tertiary institution, my studies and life generally would never be the same.
"It would have been easier if the father of my baby was working class and could support me. But it turned out he cannot even support himself, let alone support my child and I. As a matter of fact, my dad didn't even want me in his house anymore if not for my mother's intervention.
"So, yes, I am scared of the implication of this pregnancy on my studies and future and this makes me anxious and uncomfortable in my own skin."
The strike is having far-reaching implications on parents, lecturers and the public school system in general, said Ejike Thomas, a social scientist, adding: "For the students who have been at home for such a long time without being usefully occupied with their academic work, an idle mind they say, is the devil's workshop.
"When the students are not meaningfully occupied, they will like to engage themselves in negative vices, such as cybercrime, prostitution, etc. It will also make them to forget most of the useful things they learnt.
"With the private universities going to classes, this may make most parents to consider sending their children there; it is the students that make the university what it is. If the public universities start losing their students to the private ones, what is now happening at our public primary and secondary schools, where the private schools students are more in number than those in the public ones, may become the case.
"In the long run, public universities will make themselves less attractive and this will lead to the collapse of public universities, which will also affect both the lecturers and the country in general. For the general public, good education will be beyond the reach of the poor.
"So, both parties should tread with caution and strike a balance and not endanger public schools in Nigeria beyond repairs. ASUU should note that one who fights and runs away, lives to fight another day."
In Benue State, renowned psychologist, Cletus Wantu, expressed anguish over the increasing wave of crimes in society occasioned by the prolong undergraduates' stay at home, which he reckoned has made most of them indulge in crimes and other social vices, point to the recent #EndSARS protest.
He noted that the prolong strike created so much trauma in many homes in form of demands the students place on parents and the burden of feeding amidst COVID-19 pandemic, imploring government and ASUU to shift grounds for the sake of the country's future.
A university lecturer, Kelvin Atsue, would love ASUU and government to resolve the issues to allow students go back to classes, saying government must show concern by meeting some of ASUU's demands, while the lecturers should also be considerate.
Martha Adem, Solomon Awe and Sabina Aker, all students, expressed desire to return to classes and called on both parties to do the needful to secure the future of the country, worrying that their counterparts in private universities are now ahead of them in all ramifications.
According to a psychologist, Dr. Victoria Daaor, some undergraduates have gradually started slipping into depression, noting: "Some students are under pressure at home from parents who are also unhappy over the strike. Some, in a bid to escape from the reality of the situation, might have taken to drug abuse and other vices. Some who hoped they would have graduated by now feel a sense of despondency and hopeless.
"Lack of anticipated government response is creating anger in the hearts of youths and in trying to let it out, they could become unnecessarily aggressive and violent.
"They are also prone to mental health issues, and of course, disinterest in education and distrust for authority figures in their lives."
For Olusegun Temilola, a Sociology lecturer at the University of Lagos, it is a double-edged sword, as society would be grappling with the unlocking of deviant behaviour of students and youths generally on the negative side.
"Government should do the needful with sectors of Nigerian economy, especially education, by fulfilling all agreements and implementing what the experts in the field are recommending. How on earth will a university student be hoping to be a teacher or lecturer in this country when the politicians can take N25million to N35million per month? This is totally wrong."
A psychologist, Femi Adedoyin, who graduated from the University of Jos in 1995, told The Guardian that it is dangerous for students to remain idle for too long a period, as their brains would not only remain stagnant, but continue to deteriorate as they are not being put to use.
He said the situation would affect the moral of the students, who might find dangerous things to do, such as cybercrime, 'liberal stealing,' gangsterism and other social crimes, noting: "Because the students are idle for long, they will be readily available to join any organised crime, thereby fuelling criminality in the process. The Federal Government and ASUU should strike a common ground, so that the disagreement is resolved once and for all and the students resume immediately."
A student from the University of Jos, Victor Sylvester, and another from the Federal University, Lafia, Nasarawa State, Christian Sylvester, urged government and leadership of ASUU to close ranks in the interest of anything that is good and human, contending that they have lost the little things they acquired before the strike.
Dr. Andrew Onoja of the Department of English, University of Jos, added that the prolonged strike is worrying, worsened by the outbreak of COVID-19 pandemic and the hijacked #EndSARS protest.
He expressed concern that a whole academic session could be lost to the strike, but absolved lecturers of any guilt. A Senior Lecturer in the Department of Theatre Arts, Prof. Reuben Embu, told The Guardian that the laboratories, hostels and other amenities that help learning in the university have collapsed and in shambles, lamenting that Nigeria is 200 years behind other international higher institutions.
"Those Nigerians, especially ministers, who are making noise should come and teach and feel how we are now feeling. Their children are schooling abroad, so they are not bothered. If not for the passion for the teaching profession, I would not have been here.
"Lecturers are very concerned about the strike. The money ASUU is asking for does not come to us, but goes to the university administration. We too have children who are students. So, we are worried," Embu asserted.
But to a writer and commentator, Afolabi Alawode said: "Now that the government has refused to take ASUU's demands seriously, ASUU must mobilise its members and students to stop elite style of attending to burning issues.
"The struggle to revitalise Nigeria's public tertiary education must not be restricted to roundtable discussions. Truly, the demands of ASUU are genuine and rational."
In Bayelsa State, many students have taken to meaner jobs to survive, while those in their final year are left frustrated seeing their hope of graduating earlier dashed.
A first year student of the Niger Delta University (NDU), Esther Wille, is no longer comfortable with long stay at home, hoping that the issues would be resolved soonest and academic activities could resume in January.
She said: "At first, I was hoping that the schools will open soon, but it is already late, so let us wait, maybe we will resume by January next year.
"I felt comfortable staying at home in the first two weeks since the school was trying to rush us during exams and I felt the first two weeks will be okay for us to relax a little, but after the stay at home for over a month, I was no longer comfortable.
"I am worried and praying that no matter what happens, it shouldn't exceed January next year. I think the Federal Government and ASUU are comfortable that we are at home, but they should try all their best to resolve the issues, so we can go back to school."
Ruth Joseph, a 200-level student of same institution, noted: "The strike has been a thing of grievance before now. After the Coronavirus disease outbreak, we expected to resume immediately, but our expectations were cut short."
Emmanuel Opigo is bothered about the amount of time he wasted staying at home doing nothing: "I am in 200-level and I am supposed to have been ending 300-level by now. We will be put under pressure when they eventually resume, because the semesters are going to be rushed when school starts.
"The result of the strike is going to end in an even less impressionable educational system."