Insecurity: How Yoruba Saboteurs, Enemies are Blackmailing Amotekun – Commander
Select Language
The retired general also said Ibadan residents should stop complaining about Amotekun insisting that the enemies of Amotekun were at work to blackmail the security apparatus
The Chairman, Oyo State Security Network Agency, General Kunle Togun (retd), has said that Amotekun operatives did not kill any innocent citizen in the state.
He further stressed that Amotekun officials were attacked by armed robbers and that their response got one of the criminals killed in Ibadan, the Oyo State capital.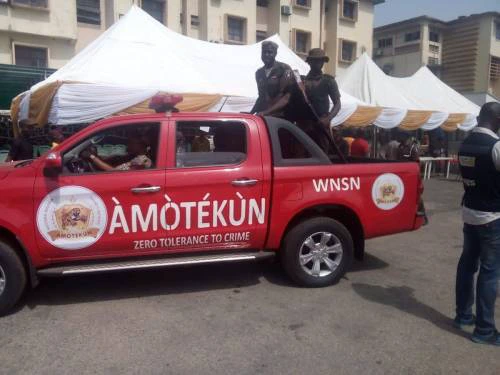 Togun told SaharaReporters on Thursday while explaining that Amotekun was being blackmailed by the enemies of the security initiative.
"They didn't kill anybody. They have explained this thing. These criminals attacked Amotekun operatives. And, they were armed robbers.
"So, those ones responded and one of them got killed. People are lying that they killed an undergraduate. That's not it. They've explained this thing so many times."
The retired general also said Ibadan residents should stop complaining about Amotekun, without first getting the facts, insisting that the enemies of Amotekun were at work to blackmail the security apparatus created by South-West governors.
"People should not complain. Amotekun did not kill any student. You're saying when criminals attack them (Amotekun,) they should just hands off and be looking till they get themselves killed. It is only stupid soldiers that die for the country without first defending themselves.
"When soldiers are deployed to go and secure a place, they are not there to go and get killed by their opponents. It is their right to defend themselves, and in the process of doing that, the criminals are shot dead. People should not put the sentiment into security.
"We are aware that some Yoruba people went to meet President Muhammadu Buhari in Abuja, telling him that he shouldn't approve it, that it would lead to secession. It is these people that don't want Amotekun that are finding faults in it."
Responding to a question about how Amotekun has not yet lived up to its expectations in the region and people are still being killed and kidnapped by suspected bandits, Fulani herdsmen and kidnappers, Togun said, "How many years have the Nigeria Police been in existence? How long is the existence of the Nigerian army? Why don't these people go and meet them to ask questions about why they have not tackled all forms of insecurity in the country?
"Amotekun has barely worked for a month, and people have started complaining. Are Amotekun people gods or magicians? People should reason a bit."
He also stressed that the operatives of the Amotekun have posts in local government areas across the state, and not established to operate in interior places.
"The law that established Amotekun did not make it an independent security outfit. It says they should work with the police. They are not created to go to the bushes to be looking for people. It is when there is a crisis that they are called and will respond. They will go there, see what they can do to solve the problem. They are stationed in their local government areas."