Post ASUU Strike: EKSU Announces Resumption Date
Select Language
_EKITI STATE UNIVERSITY_
_STUDENT UNION GOVERNMENT
PRESS RELEASE FROM THE STABLE OF EKSU SUG LED BY COMR. GBADERO HABEEB OLUWASEYI (Team Reality)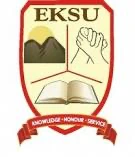 ⏺️ This is to announce to all EKSUITES that the resumption date for Ekiti state University is on the 18th of January, 2020 with E-learning.
*As EKSUITES resume on the 18th of January, 2020.*
*E -learning will commence which is going to last for 4 weeks after which examinations will be conducted physically in School*
Note: *Students who have fully paid all necessary dues should visit their portal dashboards to have access to their institutional email addresses, which will be used for E-learning and other official communications*
We want to use this medium to urge the final year Students to remain calm, delay won't be a denial.
The management are working assiduously to put things in order as
Business Committee meeting is scheduled to hold on 20th January, while Senate meeting will hold 27th respectively.
⏹️ *EKSU SUG President, Comr. GBADERO Habeeb Oluwaseyi with the Revolutionary NANS President, Comr. Sunday Asefon met with BEDC Ido Ekiti on how electricity will be restored back to school area (Satellite Phase 1 & 2, School gate and Osekita)*
As regards the move, survey and enumerations on how light will be restored to school area will commence on Monday, 11/01/2020
We beseech Students available in school area to join this movement by 10 am on Monday at satellite gate for the restoration of electricity.
As we will continue to put in our best for the interest of EKSUITES
In addendum,
_*The student union Government, Ekiti state university, uses this medium to appreciate the Revolutionary NANS  president, Comr. Sunday ASEFON for being up and doing, May your reign be filled with endless bliss.*_
You Matter✅
We care💚
Signed:
EKSU SUG President
*GBADERO Habeeb Oluwaseyi
EKSU SUG GEN SEC
*YINUSA Wasiu Oriyomi
EKSU SUG P.R.O
*SALAUDEEN TOHEEB AYANYEMI (SIR TOHEEB)*